Former cosmonaut says Russian space program has a bleak future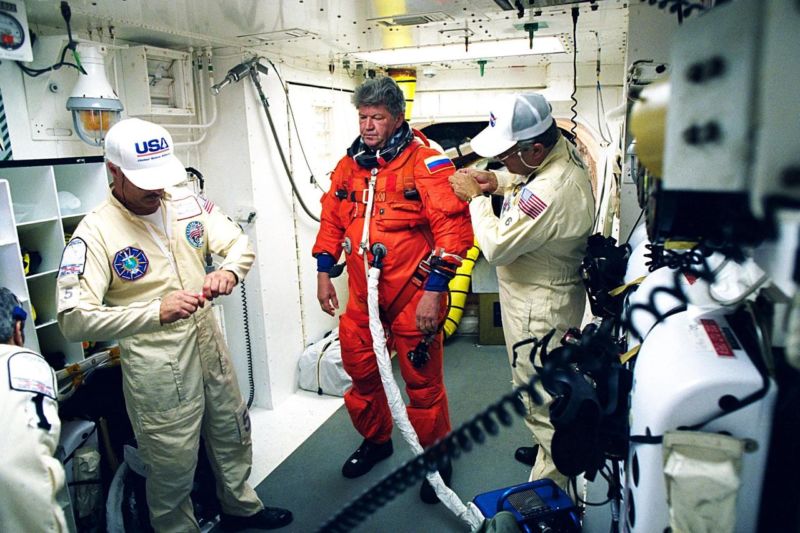 Enlarge / In 1998, STS-91
Mission Specialist and Russian cosmonaut Valery Victorovitch Ryumin
is assisted with his flight suit prior to his entry into the space
shuttle Discovery. (credit: NASA)
Valery Ryumin has had a long career as an engineer and
cosmonaut: he was twice named a Hero of the Soviet Union, a veteran
of two long stints on the Salyut-6 space station (remarkably, he
spent 175 days there in 1979 and returned again in 1980 for another
180 days), and eventually a crew member of space shuttle
Discovery's mission to the Mir space station in 1998.
Now 79 years old but still a respected figure in Russian space
circles, Ryumin has given a highly critical interview about the
present and future of Roscosmos and the Russian space program. The
interview
was published on Pravda.ru, a pro-government news website with
a nationalistic bent that is not related to the long-time newspaper
of the Russian Communist Party, Pravda. It seems significant that
this publication would feature such a negative view of Russia's
activities in space.
As part of the interview, Ryumin is asked about Russia's stated
plans to send humans to the Moon in the 2020s. "On what money?" he
replies. "In recent years, the leaders are blowing more smoke than
doing anything substantive." (A translation of the interview was
provided to Ars by Robinson Mitchell.)
Source: FS – All – Science – News
Former cosmonaut says Russian space program has a bleak future